About

Host4Cheap
---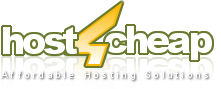 Host4Cheap was established in the summer of June 2006, with intentions of delivering enterprise level solutions at affordable prices. With the development of a unique business model, and providing innovative solutions unmatched by other competing companies, Host4Cheap has rapidly established itself as a leader in the hosting industry.
The Host4Cheap name, isn't 'just' a name, it's our inspiration for continually striving for better results. We don't just provide webspace and bandwidth. We innovate. Providing further solutions and value added products which are designed to completely enhance your hosting experience. Keeping our prices below industry level, yet providing a service with such sheer quality and reliability, it exceeds far beyond industry standards.
What our clients say?
I've been with Host4Cheap for 2 years now. All my questions were answered within 1 business day of submitting them. And their features are great. I now have two accounts with them.
I just wanted to expres how happy I am with the service and the hosting facilities I have with Host4Cheap. You guys are just great! Keep up the good work.

I am using Host4Cheap.org from more than 4 years, Never faced any downtime, Hosting server is excellent, customer service is great with very fast reply. I have been on many hosting provider but will prefer Host4Cheap even on top of big fisheshGreat value for Money
Uninterrupted support and custom solutions provided by Host4cheap has made it my first and best choice for web hosting
Quick contact

Host4Cheap
First Floor, Quiet Office 15
Sector 35 B
Chandigarh, India

Phone: +1 612-707-7157 (Whatsapp)
E-Mail: support@host4cheap.org
Payment Methods
© 2006 - 2019 Host4Cheap | All Rights Reserved