Google Apps is one of the best and widely used service from Google for Businesses. The service allows you to use custom domain names with various services of Google like Google Mail, Google Talk, Google Docs etc.
Benefits from Google Apps
You can configure Google Apps service for your Domain, which means your mail will be handled by Google but you will continue to have @yourdomain.com Email ID's

Google Apps Service provides following benefits
• Large 7GB + Space for each account like in GMAIL
• FREE POP3, IMAP Support so you can use on Outlook and other Email Clients or even BlackBerry
• Great SPAM filtering since Google is always working on Email Spam filters
• No loss of Email in case you change hosts in future, Google will always continue to have your mails
• Relaiblity of Google!
• Even If your Webserver is down (don't hope so but….) you can continue to get mails (*if you have offsite DNS Service*)

Google Apps Standard FREE edition gives 50 Email IDS.
GUIDE FOR SETTING UP GOOGLE APPS FOR YOUR DOMAIN
Lets say you have a domain abc.com, and want your E-mail address as [email protected], than this can be done with Google Apps.
There are 2 editions of Google Apps, one is Premier Edition and Another is Standard Edition. For opting Premier Edition, user will have to pay some specific amount to Google per account on a yearly basis. While Standard Edition is completely free for Users.
Premier Edition have some Enhanced Features + Products and is must opt for Businesses, while Standard Edition has regular features like that of Gmail, Google Docs, Google Calendar etc.
In this Post we will learn How to Configure and Setup Google Apps for Free for your Domain/Website/Blog.
Before going into setup details, make sure that YOU:
own your own Domain and Hosting Control Panel. This means you must have full Administrative Control over your Domain and Hosting Control Panel.
must have a Permanent E-mail Address, which you are required to provide during Apps Sign-up.
Now go to the following Link in order to Configure and Setup Google Apps for Free:
http://www.google.com/a/cpanel/domain/new
1. As soon as you land on the above Page. Select Administrator: I own or control this domain, and Enter your Full Domain Name (without www or http://) and Click Get Started:
2. Now fill up all the Details ACCURATELY in the Next 2 Web Forms. As soon as you finish you will get an Administrative Account. An example of Google Apps Administrative Account is shown below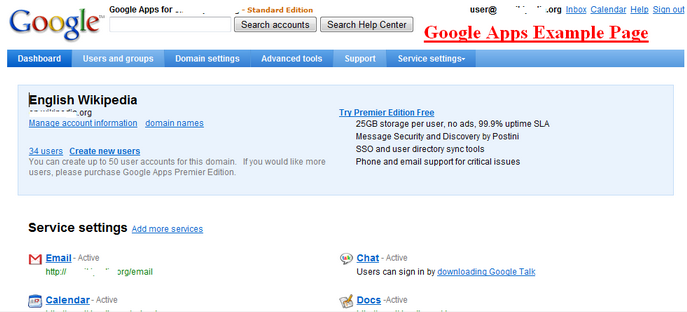 :
3. Now you have to verify the Ownership of your Domain. A verification link will be present at the Top of your Administrative Account. The best Way to verify is to Upload a HTML File naming googlehostedservice.html to the Root Directory of your Domain:

http://www.abc.com/googlehostedservice.html
For this you can use the File Manager of your Control Panel. Google Apps will give you appropriate Verification Code, which is to be inserted in googlehostedservice.html
Click Verify as soon as you are done with the Upload of HTML File. Google will verify in few minutes.
4. Now you have to Change the MX Records (Mail Exchange Records) in your DNS Settings. Get full information regarding How to change MX Records right below (Just enter your Domain Name,you registered above with Google Apps in the Blue Part Below):
https://www.google.com/a/cpanel//SetupMXInstructions
Changing MX Records in cPanel

1. Login to your cPanel account.
2. Click Mail.
3. Click Modify Mail Exchanger (MX Entry). A list of your current MX records will appear.
4. Click Change an MX Entry.
5. In the Change MX for... filed, enter either of the list as below.


- ASPMX.L.GOOGLE.COM.

- ALT1.ASPMX.L.GOOGLE.COM.

- ALT2.ASPMX.L.GOOGLE.COM.

- ASPMX2.GOOGLEMAIL.COM.

- ASPMX3.GOOGLEMAIL.COM.

- ASPMX4.GOOGLEMAIL.COM.

- ASPMX5.GOOGLEMAIL.COM.
Note: Please be aware that there will be a dot(.) after the entry.
6. Click Change.

You can check your MX Lookup here
As soon as all the above steps are done your account will be ready.
Feel free to browse the comprehensive Google Apps Help Guide here or you can ask questions regarding Setting up Google Apps Standard Edition in the Comments Section Below.
Enjoy Google Apps with your own Domain!